Actors
Earl V. Prebezac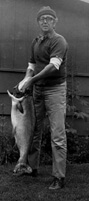 As a World War II veteran that attended Oregon State College on the G.I. Bill, Earl V. Prebezac is a perfect representative of his generation. Earl and his wife Nann have had a long history in Northwest theater. They founded the Edmonds Driftwood Players, owned and operated the Edgemont Theater, operated the Bellevue Play Barn children's theater, and appear regularly in radio roles on the (Evergreen) Library for the Blind Network, and other select broadcast dramas.
Earl has also performed more than two hundred and fifty emcee gigs at the Seattle Opera House for World Cavalcade, at the Seattle Shakespeare Fest, and other theaters about town. In addition to voice-overs, and TV commercials, he took up film acting in the mid-nineties when long-time friends, Jeff Probst urged him to take part in his film-- "Trust Me". He has appeared in a number of films since then....and looks forward to more film work.
Frances Hearn
Frances Hearn has acted in several shows throughout Los Angeles and Seattle. She has also directed three shows: JUDITH, and WOUNDS TO THE FACE, both by playwright, Howard Barker and a new play by Judy Soo Hoo called BEASTLY BEAUTIES. Some of her favorite roles to play were: Solange from Jean Genet's THE MAIDS, Hyppolita from TIS PITY SHE'S A WHORE, Lady Macbeth, and The Lover from AN UNSEEN ENERGY SWALLOWS SPACE, an original piece created and directed by Travis Preston. She is a graduate of the California Institute of the Arts. Frances is happy to be working with Matt Wilkins again on this project.
Keith Fox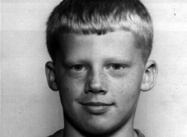 Keith has had a number of employment situations which prepared him for the role of "DAD." As a teen-ager he sold hotdogs and pop out side the stripper tent in a traveling carnival. He did not succeed academically in college, at least in the opinion of the college, and was forced to go on the road. In San Francisco he worked for a television store as a repo man. While most of his clients were non-English speaking, they all understood the universal language of the TV going out the front door. This was followed by a 2 month stint as a paid experimental research subject for the renowned astrologer Carroll Righter. In Los Angeles he worked for the County Dept. of Corrections were he supervised inmate work gangs in highway construction. A second shot at college resulted in a degree, if not significantly greater academic success. Early wastes of time as a grad included working as a welfare caseworker in New York, also driving cab and waiting tables. Ultimately all the perseverance and hard work paid off and he got a job as a writer and producer for NBC daytime TV. Regular assignments included the "Who What Where Game," "Jeopardy" and others. After emigrating to Canada he founded the PEI Summer Playhouse and produced and directed 4 seasons of summer stock. He has been an award winning newspaper reporter and advertising creative director -- his current occupation.
David Donihue
Donihue started in theater writing, directing and acting. He was responsible for HOLD MY HAND & TELL ME I'M NOT INSANE, HEY BABY DO YA WANNA COME BACK TO MY PLACE AND JUSTIFY MY EXISTENCE, and BRAIN ACHES. He later moved into film, directing a string of music videos and commercials, and playing roles that ranged from a serial killer to a retarded man to a geeky accountant. Before leaving Seattle, he directed THE HUMANITY EXPERIMENT, a surreal digital feature. After his recent move to LA, he directed the 50 minute hi-def drama HEATWAVE, and co-wrote PARZANIA, a feature that is currently shooting in India.
Jennifer Estes

Jennifer Estes is a senior in high school. She has taken theatre courses at Seattle Children's Theatre (including the Young Actor Institute), Seattle Repertory Theatre, and the Oxford School of Drama. She has acted in plays with SCT Summer Stage, Enumclaw High School, Heavy Than Air Theatre, and Plateau Community Players. She worked with playwright William Mastrosimone in the workshop reading and a full production of BANG BANG YOU'RE DEAD, before touring it throughout Washington for the Department of Education. Favorite roles include Hermia in A MIDSUMMER NIGHT'S DREAM, Mary Warren in THE CRUCIBLE, and Babe in CRIMES OF THE HEART. BUFFALO BILL'S DEFUNCT is her first experience with film; she found it both exciting and satisfying. Jennifer hopes to be involved in more independent film projects while she attends college next year as a theatre major.
Wiley W. Wilkins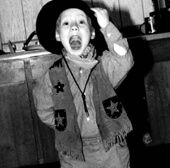 Wiley was born 12 years ago. His first role was at the age of 2 months in a student film by Chris Smith called "Space," made at the University of Iowa while his parents were attending college. He has appeared, both purposefully and accidentally, in several Sisyphus Productions, including "The Gods Looked Down and Laughed," "StoryTime," and "A Note to All Adults." He likes to collect coins, draw comics, and forge weapons. He recently made the A/B honor roll at Showalter Middle School in Tukwila Washington, U.S.A.